I have posted on here before how much i enjoy reading Angie's blog and if you have never read it please go check it out. They way she writes is so lovely and her story and strength is truly amazing.
I received the book this afternoon and began reading it when I got in bed.
It is now 4:33 am and I am almost through. It is one of the most powerful books i have ever read.
I wanted to share a couple of quotes from the book and some scripture that jumped out at me.
I really encourage you to pick up this book and read through it.
During her story she goes through scripture and explains it in the way that she felt during that hard time in her life. This is an amazing book for someone who has lost a child or for someone who has a friend who has and can't quite find the right words to say to be a comfort. Angie explains every bit of how she felt in such a real way that it draws you in to every word.
I am completely overjoyed by reading this amazing story of finding joy in the midst of grief.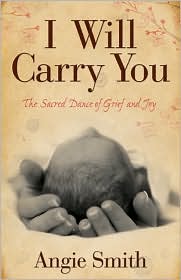 "We made plans for the forever, like you're supposed to do when you're a family. We were so in love with our life that it was impossible to consider anything else. Just love one another deeply and try ot make each moment count for something. Run the race with joy, and it will be OK.
How could we have known?
And if we had, I can't say we would have done anything differently. We loved without abandon, each day and night filled with the hope and expectation that we would always be together. Whether nestled under a cozy quilt watching a movie or photographing the girls having a hose fight with the neighborhood kids in the backyard, one this was for sure....
We were a family, and everything was exactly as it should be."
"His ways are not our ways and we must believe even when we can't see a way out"
"The peace of God settled into our tiny apartment every night as Todd sang lullabies and I gently rocked the girls to sleep."
Yes I am always with you; you hold me by my right hand. You guide me with your counsel, and afterword you will take me into glory. Whom have I in Heaven but you? And earth has nothing i desire besides you. My flesh and my heart may fail, but God is the strength of my heart and my portion forever.
-Psalm 73:23-26
"I said the first thing that came to my mind, and I said it with much more conviction than I was feeling. 'I think my Jesus is the same as He was before I walked through that door.' I looked him dead in the eye, willing myself to believe it."
"I slipped into a part of myself I never knew existed. There were voices, movements, questions, and the man I love- all of it. But they were moving around me, and I couldn't figure out how to be present with them. I really believe that the Lord held me together by shielding me from the reality of the situation. I knew it was bad, but through a blurry lens."
I could go on and on! Every word in this book is powerful. I am looking so forward to finishing it tomorrow. I want to end the post on a quote i saw the second I opened the book to a random page in the middle.
"Joy is not the absence of trouble, but the presence of Christ."